St Hugh's 2017 Telephone Campaign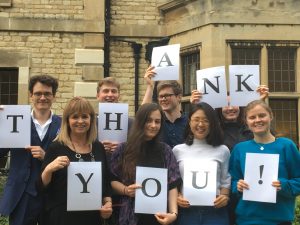 From 13th – 27th March 2017, current St Hugh's students spoke with nearly 400 alumni around the world sharing college memories, chatting about their experiences after leaving St Hugh's, and thanking them for their support.
The student team also sought support for the Discretionary Fund which supports undergraduate and graduate scholarships, the student hardship fund, the upkeep of our beautiful gardens, as well as the modernisation of our buildings.
At the end of the 2 weeks, a record-breaking £130,000 was raised for the Discretionary Fund from 225 gifts with 21% of gifts from first time donors. The 2017 Telethon has emphasised the remarkable goodwill and generosity in our alumni community and we are very thankful to all of out donors and alumni.
If you would like to receive more information about the Discretionary Fund, or supporting St Hugh's, contact the Development Office at development.office@st-hughs.ox.ac.uk or +44 (0)1865 613 839