The recent Anna Haxworth Prize Competition provided a wonderful evening of musical mastery. The prize is awarded in memory of Anna Haxworth, alumna of St Hugh's, who studied Music from 1960 to 1963 and went on to be Head of Music at Oxford's Cherwell School. The competition is not only for music students, but is open to all studying at St Hugh's, both undergraduate and postgraduate, and so draws in much of the considerable musical talent from around the College.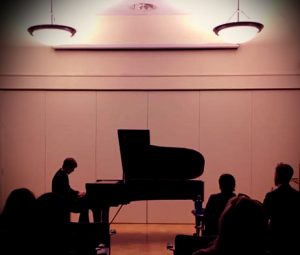 Performers are invited to present a contrasting programme of ten to fifteen minutes in any musical style or genre, and can feature any instrument, including voice, except the organ (which would present difficulties in being transported to Mordan Hall, where the performances took place!) This year there were six participants from both the JCR and MCR, who played everything from dance movements by J S Bach to music from the film Amélie on instruments including guitar, piano and clarinet. The judging panel praised the high standard of playing throughout, the musicality, and communication with the audience. The prize, an annual musical scholarship, and a recital in the Trinity Term, was won this year by Taro Kobayashi, born in Japan and resident in the United States. He performed Gavottes I & II by J.S. Bach and Sonata Op. 15, (i: Allegro spirito) by Mauro Giuliani. Taro has a fascinating and unusual background for a talented musician, having first graduated in Physics and Music. His year at St Hugh's comes as a sabbatical from a technical firm in Seattle, Washington, and he feels very privileged to be spending it to pursue an MSt in Music (focusing on Musicology, or the scholarly research of music, its historical context and meaning, rather than practical training in performance or composition).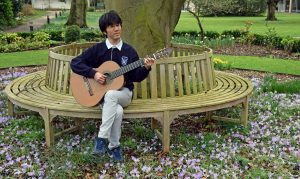 His interests focus particularly on music in the Early Modern Period (the 16-17th centuries), where an evocation of melancholy was a common musical theme. He says however that his musical interests are diverse: from favourite classical composers William Byrd, Joseph Haydn and Franz Schubert to contemporary guitarist-composer Michael Hedges, 1960's band Cream and even the harmonies of The Bee Gees! He plays the modern guitar, Baroque guitar and an 8-course lute, although he also used to be trumpeter. As well as being a consummate player, Taro sings with the College Chapel Choir, and has a strong interest in dancing – both historical dances from the royal courts of Europe in the 16th-18th centuries, and an ambition to become an accomplished modern tap dancer. We wish him luck with his studies, and an enjoyable time in Oxford.