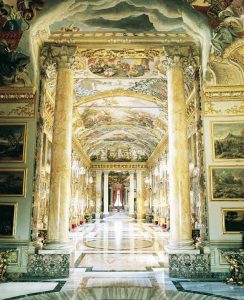 Rome: Private Tour and Drinks Reception, Palazzo Colonna
£40.00
6:00 pm
St Hugh's College is delighted to be participating in 'Meeting Minds in Rome', the University's European Alumni Weekend, 16-18 March 2018. For full details, and to book, please visit the University website.
In addition to the main programme, St Hugh's College alumni and friends are warmly invited to a private tour of Palazzo Colonna, followed by drinks and canapés hosted by the Principal, the Rt Hon Dame Elish Angiolini DBE QC, in the stunning surroundings of Princess Isabelle's Apartment on the evening of Friday 16 March 2018 (6pm-8.30pm).
Tickets for this exclusive event are £40, and can be booked via our online booking form below, by emailing development.office@st-hughs.ox.ac.uk or by telephoning +44 (0)1865 613852.
Guests are most welcome.
Please note that tickets for this event are strictly limited, so early booking is advised.
If you would be interested in joining us for an informal dinner at a nearby restaurant following our reception at Palazzo Colonna, please email development.office@st-hughs.ox.ac.uk by the end of February 2018 (venue TBC, likely to be near the Trevi Fountain). Please note that dinner is not included in the ticket price listed above.
Book a Ticket
Debit and Credit card payments are processed through our PayPal account. You do not need to be registered with PayPal to complete this transaction.