The Application Process
The University of Oxford aims to attract applications from the most academically able individuals, irrespective of their socio-economic, ethnic, or national origin, on the basis that they are well-qualified and have the most potential to excel in their chosen course of study. Selection is based entirely on academic criteria, and not on your background or what kind of school you went to. We look for those who have a genuine academic interest, who are prepared to work hard and aim high.
Applications to Oxford are assessed holistically by our tutors, who are specialists in the subject to which you have applied. Applications will include:
o UCAS Application
o Your academic profile, including prior and predicted grades
o Your personal statement
o Your academic reference
o Contextual data
o Admissions test results (if required)
o Submitted written work (if required)
o Your interview
---
The Admissions Process

*If you are applying to study Law, you are required to take the LNAT between 1 September and 20 October 2016. If you are applying for the BMAT the deadline for registering is October 1st.
 STEP 1. Picking a course & checking the requirements
Choosing a course is the most important choice you will make when applying for university, followed closely of course, by where you choose to study it. The best place to start is the University course pages, making sure you are aware of the specific requirements, including grades and subjects previously studied. We provide standard offer requirements for all our courses to give applicants an idea of the minimum standard we expect in order for them to do well at degree level. Other considerations are practical, courses vary in length, teaching structures and assessment formats, for example all our modern languages courses include a compulsory year abroad.
STEP 2. Choosing a college
An integral part of the University, colleges are small interdisciplinary academic communities, made up of students, staff, and academics. While most applicants do choose a college, it is not necessary to do so; it is possible to make an open application, which means that your application will be allocated to a college at random. It is important to note that Oxford operates a reallocation process, which aims to ensure that the most gifted candidates are not hampered by applying to an oversubscribed college; when this happens, applications will be assigned to a college for which this is not the case.
STEP 3. Written work & admissions tests
Many of our courses require you to take an admissions test; Oxford's admissions tests are organised by the Admissions Testing Service. You will need to register separately for any tests, by a set date (usually in October), and can normally sit them in your school or college, or at a centre near your home. Click here to find out whether the course you're applying to requires you to take a test; most applicants will need to take a test and registration is the responsibility of the candidate.
Similarly, many courses ask for some form of written work, work which should demonstrate your analytical, reasoning, language and writing skills. It must be original school or college work, marked by a teacher, and not re-written or corrected in any way and no longer than 2000 words in length. If your application is being considered by St Hugh's College, we will contact you with instructions on how to submit any necessary written work towards the end of October. For further information about whether your course requires additional written work, please click here.
STEP 4. UCAS application
All applications must be submitted through UCAS by 6pm GMT on the 15th October, received applications will be confirmed after this date.
STEP 5. Interviews
If you are shortlisted, you will be invited to come to a particular college in December. You will be interviewed by tutors at St Hugh's and possibly by tutors at other colleges as well. If you live outside the EU, and are unable to travel to Oxford for interview, then you may be offered an interview by Skype. (Medicine is an exception – all shortlisted candidates must come to Oxford.) Please see below for the University's guide to interviews at Oxford.
STEP 6. Decisions
All decisions will be sent to candidates in January via post.
---
Save
Frequently Asked Questions: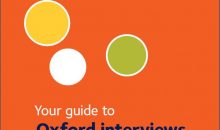 Your Guide to Oxford Interviews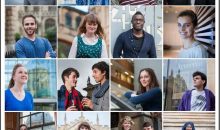 An Introduction to UG Study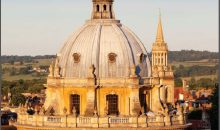 International Students' Guide