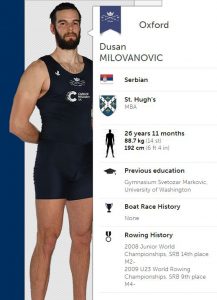 St Hugh's Boat Club is this week celebrating the successes of a number of our finest rowers. Two Hughsies are proud to be taking part in the Reserve Boat Races: Beth Bridgman will be rowing at Seat 4 in the Women's Osiris boat, while Dušan Milovanović will be at Seat 5 in the Men's Isis boat.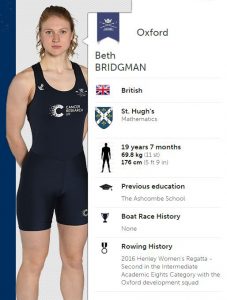 Dušan's success here in Oxford, where he's studying as a graduate for an MBA, follows a long history of rowing achievement, with placings at the 2008 World Junior and 2009 World Rowing Championships. Beth's selection for Osiris is particularly impressive, since she is amongst the youngest in the OUWBC Squad, and only learned to row after coming up to St Hugh's as a Mathematics undergraduate in 2015.
For only the second time in the event's history, both the Men's and Women's Blues Races and Reserve Races will be taking place on the same day, April 2nd. All events will all be held on the Tideway Championship course, a 4.2m (6.8km) tidal stretch of the River Thames. Currently, Cambridge are narrowly leading Oxford in the Men's Race, by 82 victories to 79, and are further ahead in the Women's event, with 41 wins to 30. We can be sure all races will be very hotly contested!
We would also like to pass on our congratulations to two of our female rowers, who represented the University in this year's Lightweight Boat Races at Henley this week: Laure Bonfils, DPhil Engineering student, rowing in the stroke seat in the Lightweight Blue Boat for the second year running, and Maline Meiske, who did her MPhil at St Hugh's, and learned to row here, who was in Oxford's Reserve Lightweight Boat.
You can learn more about the event, its history, and the Oxford and Cambridge Squads for the 2017 Boat Race here.