2023 Telethon Campaign
 We are tremendously excited to announce that this year's Telethon Campaign will run 14-27 March and will be held on site for the first time in three years. Our students are keen to share College news with you, to gather your feedback on our events and activities, as well as talk to you about your experiences since leaving St Hugh's. In addition, we ask that you consider making a donation towards the Area of Greatest Need. To find out more information and to support the College with a one-off or regular gift, please click here.
We hope that you enjoy hearing from one of our current students, as much as they will enjoy speaking with you.
Please note that in order to ensure that our team of student callers deliver the best experience possible, calls may be recorded for training and monitoring purposes.
Meet Your Student Callers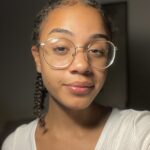 Louise Aarons
Hello! My name is Louise and I am a first year Biomedical student at St.Hugh's College. I enjoy spending my time at the gym and drawing with oil pastels. I absolutely love the friendly atmosphere here at Oxford and have met some wonderful people so far. I'm looking forward to another exciting term with more events and socials.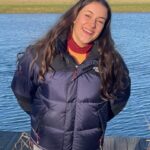 Nancie Bowley
I'm Nancie, a 4th year Biology student at St Hughs currently researching the effects of climate change on crop pests. Outside of my degree I enjoy running (800m) for OUAC, walking around Port Meadow (pictured), and spending time with friends and family! I look forward to taking part in the telethon!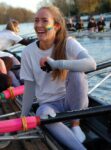 Caolann Brady
My name is Caolann and I am an Irish alumna of Trinity College Dublin. I am currently a 2nd year DPhil student of Clinical Medicine at St.Hugh's, studying immune responses to SARS-CoV-2. When I am not in the lab, you will find me watching rugby union and Formula 1, out on a run around Oxford (I completed a marathon last year) or on the Isis as I am very involved with St.Hugh's boat club
Indigo Buckler
Hi, I'm Indigo, I'm studying Biology and I'm in my 4th year. I was Women's Captain of our boat club in 2021/2022 and I took part in the Telethon last year. I love getting involved in college life and have been an active member of the college sports teams and JCR events.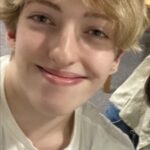 Sabrina Coghlan-Jasiewicz
My name is Sabrina and I'm an English literature finalist at St Hugh's. In my spare time, I run a radio show about dreams with my friends, explore Oxford's natural spaces, and go ice skating and running.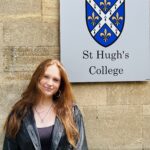 Siena Jackson-Wolfe
Hello, I'm Siena and I'm a first year classicist here at Hugh's. I grew up in Bristol and have enjoyed getting involved in Oxford's vibrant dramatic community during my first couple of terms. I am proud to be a member of St Hugh's and love the vibrant community and friendly atmosphere which has made my experience at Oxford so rewarding.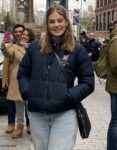 Holly Morris
My name is Holly Morris, I am a third-year English student at St Hugh's and I'm really looking forward to taking part in the Telethon. In my spare time I like to row and play netball, but am spending a lot of my time at the moment preparing for my final exams as well!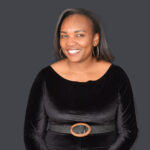 Winfred Mutinda
Winfred is a Chevening Scholar from Kenya pursuing a Master of Public Policy (MPP) at the Blavatnik School of Government. She is an award- winning electrical engineer and energy professional, passionate about the eradication of energy poverty and promoting diversity and inclusion in the energy sector in Kenya. Winfred has a philanthropic heart and attributes her enthusiasm for community service to her humanitarian engineering mindset. Her key policy interests are in sustainable infrastructural development, energy, climate change and gender equality.  After the MPP, Winfred aspires to be at the forefront of effective policymaking aimed at solving multidimensional societal challenges in Africa.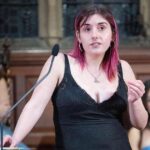 Bronwen Price
My name is Bronwen Price and I am a second year Law student. My main ventures at Oxford have been founding the Oxford West Country Society, and serving on the Oxford Union Society access, press and sponsorship teams. I am a Crankstart Scholar and was on the committee which ran their very first ball.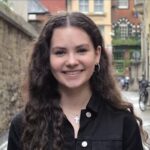 Karina Suttie
I'm Karina, a second year PPE student at St Hugh's. I especially love the Philosophy part of my degree, and so focus my studies mostly on that these days! Outside of my degree, I do lots of music and drama and I often sing or play the violin at my Church. I do a lot with OICCU and with my college CU as well, and always enjoy saying 'hi' to the college cats when I run into them around site!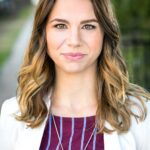 Doris Vidas
Doris Vidas is a first-year DPhil student in Archaeological Science at St. Hugh's College. She finished her undergraduate at the University of California – Los Angeles in Anthropology with a focus on digital archaeology and a minor in linguistics. She continued on to complete a Master of Archaeological Science at the University of Oxford, investigating early crop-growing regimes in Neolithic Bulgaria using stable isotope analysis. She has continued to build on her interest in studying ancient agricultural systems through her current research in Neolithic Greece, where she investigates crop cultivation and animal husbandry practices of some of Europe's first farmers. She hopes her research will contribute to current discussions in sustainable agriculture, biodiversity, and biocultural heritage. She enjoys reading, writing short stories, doing yoga, and taking her dog on long walks in the countryside.