St Hugh's 2021 Telephone Campaign
15th – 29th March
This year the Telethon Campaign will be taking place entirely offsite, for the first time, between 15 – 29 March 2021.
Our student callers will be getting in touch with as many as 2,000 members of the St Hugh's community to provide updates on the latest news from St Hugh's, to gather feedback on our events and activities as well as seek support for the College Discretionary Fund.
The Discretionary Fund supports the College's areas of greatest need. It provides crucial student funding, supports our teaching and research, and helps to maintain and refurbish our buildings and gardens. When a specific support fund is unable to fully cover a project, position, or award, the Discretionary Fund is instrumental in ensuring that the College's priorities are met. This core fund allows us not only to respond to critical events, but also to tackle unforeseen challenges. To make a donation to the Discretionary Fund online, please visit our giving page.
We very much hope that you enjoy speaking with one of our students, please scroll down to meet this year's calling team.
We understand that our alumni lead busy lives and if you would rather not receive a call on this occasion, please contact the Development Office by telephoning +44 (0)1865 613839 or by emailing development.office@st-hughs.ox.ac.uk.
To ensure that our team of student callers deliver the best experience possible, calls may be recorded for training and monitoring purposes.
Meet the Calling Team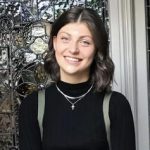 Jana Addis
Hello, my name is Jana Addis and I'm in my first year studying French and Spanish. I have especially enjoyed studying poetry (Baudelaire in particular) and will soon be choosing my modules for next year. In my spare time I love taking dance classes, running, and playing piano. I also enjoy travelling when it is safe to do so, and plan to go interrailing as soon as I get the chance!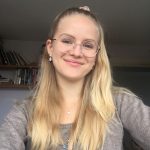 Martha Berkmann
I am in my fourth year studying Classics. I am a keen theatre director and have acted throughout my time at Oxford. I write poetry in my spare time and enjoy(ed) travelling through Europe.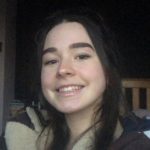 Jessica Clucas
I am a first year currently reading Psychology and Linguistics. In my spare time, I enjoy partaking in various sports activities, particularly netball and running, and also enjoy playing music. I am extremely excited to be a part of the Telethon team this year and cannot wait to start!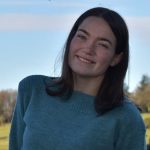 Jessica Curry
I am a 21 year old, hailing from Glasgow, and I study Classics at St. Hugh's. In my spare time I love getting involved with whatever is going on in Oxford – next term I'm looking forward to college sports being able to restart and to running events with an Oxford based feminist society.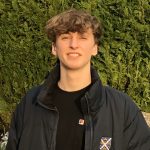 James Chapman
I am currently in my first year studying Archaeology & Anthropology. Outside of academics, I enjoy climbing and playing the guitar.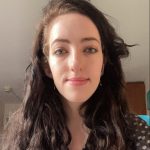 Sabrina Coghlan-Jasiewicz
My name is Sabrina and I'm a first year English Literature and Language student at St Hugh's. Outside of my studies, I love hiking through nature, writing poetry, and reading widely across both the sciences and arts. I enjoy teaching, and I am currently a Biology tutor for the educational equalities outreach start-up Tutor the Nation. I believe ardently in the power and importance of community, and I am currently training as a College peer supporter so that I can be a point of help and support for the people around me.
Evelyn Edge-Partington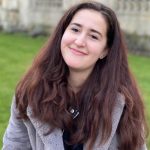 My name is Evelyn, I am a first year French and Spanish student at St Hugh's College. I enjoy playing tennis, playing the piano and I am currently the lead editor of the Freshers' Guide for the incoming Freshers later in 2021.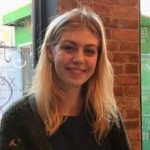 Alice Gadsby
I'm Alice, a second year studying Classics, which means I've just sat my Mods exams and have been choosing my finals options which I'll be starting next term. I'm currently the JCR Vice President and I also do outreach work for the Oxford branch of the charity KEEN. I really love cooking and reading, and I've recently started knitting!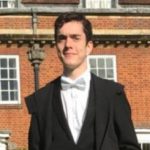 Max Gregory
I'm Max, a third year student studying Biochemistry, with a research project in protein misfolding. I am really interested in music and art. I've been involved in a number of Oxford events, helping to organise two May Balls.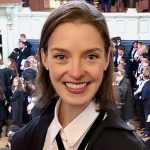 Heather MacKay
I am a new DPhil student at St Hugh's in the Department of Physiology, Anatomy, and Genetics. I am studying neurodevelopment and specifically researching neurocircuitry and development of the 5-HT system in the cortex. I am originally from Vancouver, Canada and have been living in Oxford for roughly one year now. I love hiking, cycling, baking and practicing yoga in my free time!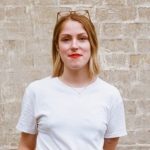 Sasha Mills
I am a second year English Language and Literature student at St Hugh's College. In my spare time, I am involved with student journalism at the University, and write for publications including 'Cherwell' and 'The Isis Magazine'. I am also a member of the St Hugh's JCR Committee, where I represent careers and academic affairs, and advocate for the JCR in academic and library committee meetings. In my spare time, I am learning Russian!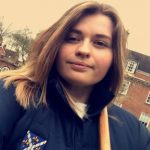 Ruby Potts
Hi, my name is Ruby. I'm in my final year studying History. When not studying I proudly represent St Hugh's Football Club and occasionally write for the 'Cherwell'. During my time at Oxford, I've been president of the History Society and JCR Vice-President.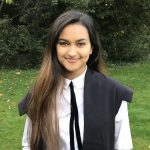 Tajrian Rahman
Hi, I'm Tajrian (she/her) and I am a second year human scientist. Outside of my studies, I enjoy singing with The Oxford Belles, of which I am currently a co-president hoping to take us to the Edinburgh Fringe Festival this summer! After my degree I would like to work in public health or international development, possibly for an organisation like the WHO.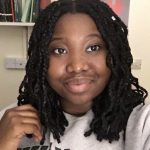 Nana Sarfo-Bonsu
My name is Nana, I study Classics and English Literature and Language (BA) at St Hugh's College. Over my years here I have enjoyed being a part of the Oxford Law Society, the Oxford African and Caribbean Society and the Oxford University Classics Society of which I am currently the President. I am also passionate about promoting access to Oxford for those from disadvantaged backgrounds and I have worked on numerous programmes that facilitate this!