Supporting College
When our students are in need of help, I am proud of an alumni community that helps ensure the College is able to offer those students the resources they require.

-The Rt Hon Dame Elish Angiolini DBE QC, Principal
The current circumstances have brought out the very best in our College community but there is no escaping the fact that the consequences of this virus challenge the University and Colleges in a number of profound ways. In these difficult times our priorities lie with the welfare and interests of our students, ensuring that they are supported and continue to receive a world class education and making certain that our wonderful team of staff continue to have secure employment.
It is for this reason that we are launching the COVID-19 College Support Fund which will provide direct support to the College in this difficult time and ensure that current and future students of St Hugh's continue to receive all the benefits of a tutorial education and the personal sense of belonging that the College community provides.
The St Hugh's community has been magnificent in supporting the College over many years and I appreciate that many of you will be suffering significant consequences of your own as a result of the economic and social impact of the virus. Accordingly, for those of you who can provide financial support to the College, this would be very much appreciated.
To see the difference that your donations make to St Hugh's and its students, please view our new brochure here.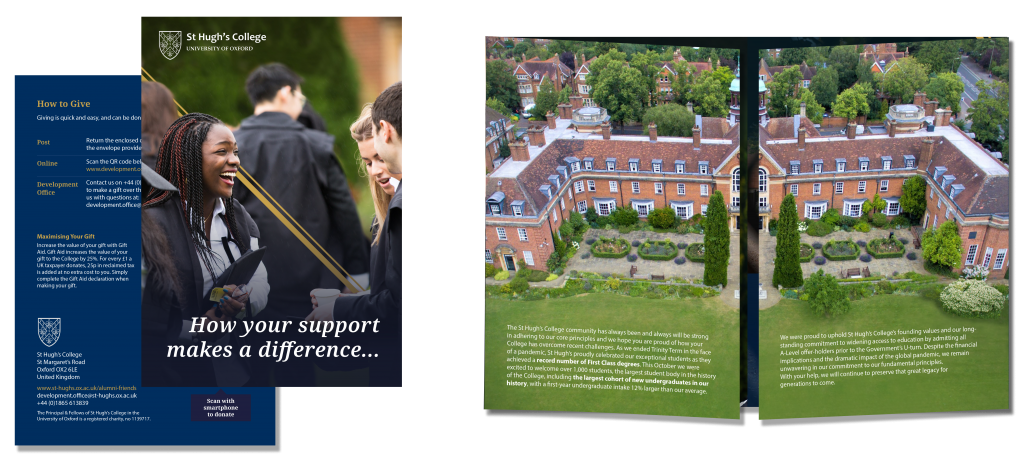 How can you support your College?