St Hugh's has a beautiful setting just to the north of the city centre, with impressive Edwardian buildings, several of which are listed, and contemporary, environmentally sensitive additions such as the Maplethorpe Building, housing state-of-the-art facilities, and the Dickson Poon University of Oxford China Centre Building, opened by the Duke of Cambridge in 2014. St Hugh's also boasts some of the largest college grounds in Oxford. It is known as the 'Island Site' because of its ample, tranquil gardens, featuring abundant mature and ornamental trees and stunning herbaceous borders. All of these features make it a restful and inspiring place to live and work.
Main Building
Our Main Building looks onto lush lawns, dotted with flowering trees and edged with colourful flower borders and a wilderness area. These provide ample space for students to relax, work and socialise.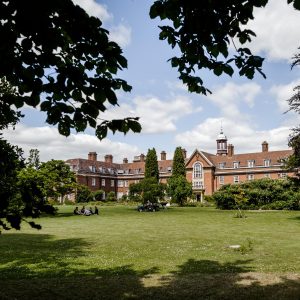 The Maplethorpe Building
The Maplethorpe Building was completed in 2000, and contains a large hall, seminar room and student accommodation.
Howard Piper Library
The College Library was completed in 1936, when its stock was moved from its original location in Mordan Hall. It was renamed the Howard Piper Library following extensive renovations in 1999 and 2000.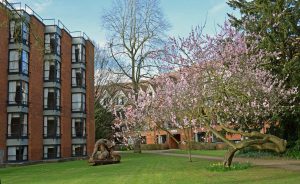 Kenyon Building (left) and Wolfson Building (right)
The Kenyon and Wolfson Buildings were completed in the 1960s, and provide undergraduate student rooms with lovely views across the College grounds.
Mordan Hall
Our Mordan Hall is located on the first floor the Main Building overlooking the gardens and terrace.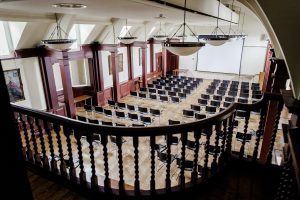 Dickson Poon University of
Oxford China Centre Building
Opened in September 2014 by HRH The Duke of Cambridge, The Dickson Poon University of Oxford China Centre was opened by the Duke of Cambridge in 2014. It features state of the art lecture and seminar facilities, a library, café and function room and graduate accommodation. The building is name after Sir Dickson Poon who contributed £10million to the development.