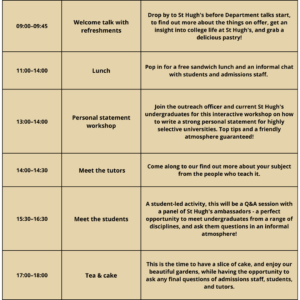 St Hugh's College Open Day
16 September (09:00-18:00)
Registration not required
Tours of the College with
current students – all day!
We look forward to seeing you in person at the Open Day which is a great opportunity to learn about studying and living at St Hugh's College. When you arrive in Oxford follow the chalk swan drawings on the pavement which lead you to our main entrance!
For a PDF copy of the St Hugh's Open Day timetable please click here. For a full University Open Day programme please click here.
Get in touch with us at outreach@st-hughs.ox.ac.uk if you have any questions.
Individual visits are also always welcome, and do not need to be arranged in advance. You can come at any time and speak to either the Outreach Manager or have a self-guided tour around College.