St Hugh's is able to offer some accommodation to graduate students, although this is not guaranteed. Applications for College accommodation from new graduates will generally be reviewed on a first-come, first-served basis throughout the year. Towards the end of this cycle, the following system of priority (highest to lowest) will be used to determine which new graduates can be offered one of the remaining rooms, and which graduates must be placed on the waiting list. This priority system is also used to manage the waiting list itself.
Graduate students with documented health/welfare needs
Overseas graduate students (including those from the European Union)
UK graduate students who have not previously lived or studied in Oxford
Other graduate students
Please note that new graduate students must meet the financial conditions of their offer before they are able to apply for accommodation or to be added to the waiting list.
A certain number of graduate accommodation places are reserved for current graduate students (including up to ten non-transferable places for MCR Committee office holders). The Accommodation Manager will email all graduate students during the academic year with details of the process for requesting accommodation for the following year.
Different rent bands have been agreed with the MCR committee to reflect the variety in room sizes and facilities available within the allocated graduate accommodation. The rent bands (rent due per month) for 2023 -2024 are as follows: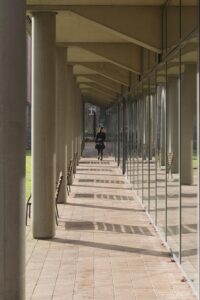 Band 1                        £614
Band 2                        £650
Band 3                        £666
Band 4                        £681
Band 5                        £703
Band 6                        £724
Band 7                        £763
Studio                        £885 (single occupancy; + £200, double occupancy)
1 Bed Flat                  £1265
Graduate accommodation is available to rent for either 9, 10, 11, or 12 months (all tenancies to commence on 27th September 2023). If offered accommodation, you will be able to choose which length of tenancy you prefer. Rental payments will be collected monthly by Direct Debit (a Direct Debit mandate is issued with the licence to occupy).
Rooms are for single occupancy only (except for the College's studio) and may not be sub-let.
If you wish to change or swap accommodation at any point, you must get in touch with the Accommodation Manager for permission in advance of any move. Room changes are entirely at the discretion of the College. If you vacate a room in College for any reason (except withdrawal or suspension), you will normally be required to pay rent for the remainder of the year/licence to occupy period, or until the vacated room is reoccupied.
Anyone who lives outside College needs to give their address to the College Office.