The Licence to Occupy (Undergraduate; Graduate), explains the rules and conditions for occupying a College room, and all resident students should read it carefully before signing. Accommodation in the College is covered by the Universities UK Code of Practice for the Management of Student Housing.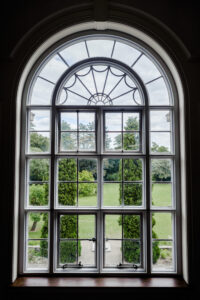 Students will be asked to complete a room inventory at the beginning of each term (by Monday of 1st week) to confirm the condition and contents of the room. Each room contains standard furniture (bed, bedside unit, wardrobe, chest of drawers, desk, desk lamp, desk chair, and bookshelves) as well as plug sockets and WiFi. Students will need to bring their own bedding (duvet, duvet covers, pillows, sheets, pillowcases, and towels). Alternatively, bedding packs (single or double) are available from the College for £25.
A small number of rooms have pianos, and priority for these rooms will be given to undergraduates reading Music.
Please do not remove any furniture from the rooms or bring any additional furnishings without first securing permission from the Accommodation Manager. Portable heaters are not permitted, except when supplied by College, and neither are personal fridges. Anyone requiring a fridge for medical reasons should notify the Accommodation Manager in advance, and the College will supply one. No pets or animals of any kind are allowed are allowed in College accommodation, except for official assistance animals.
Students are responsible for keeping their rooms clean and in good condition, and must not mark the walls or doors with pins or adhesives. Any damage (other than reasonable wear and tear) will incur a charge for repair/replacement, as detailed in the Damage Charge List here. Any damage should be reported promptly via the Maintenance Request Form, so that it can be attended to as soon as possible.
Housekeeping will clean communal areas and empty bedroom bins regularly. If you do not wish Housekeeping to enter your room to clean and empty your bin on a particular occasion, do politely let them know when they come round. If you do not keep your room and communal areas clean, this may incur additional cleaning charges (you will be given plenty of notice to rectify the situation before this happens).
Laundry facilities can be found in the basements of Kenyon and Maplethorpe Buildings, and on the ground floor at 13 Canterbury and 87 Banbury Road. The laundry machines accept contactless payments only.
Lost property should be handed to, and reclaimed from, the Porters in the Lodge.
If you have any questions about accommodation provision and facilities, or what is or is not permitted in College rooms, please contact the Accommodation Manager.
St Hugh's College is working in partnership with Endsleigh Insurance to provide limited cover for the contents inside your room. You don't need to do anything to activate this cover, but it is important for you to check and ensure that you fully understand the protection provided and whether it is sufficient for your needs. You can view the details of the cover here.