St Hugh's College was founded in 1886 by Elizabeth Wordsworth, the great-niece of William Wordsworth and daughter of Christopher Wordsworth, who was Bishop of Lincoln between 1868 and 1885. Elizabeth Wordsworth named the college after one of her father's 13th-century predecessors, Hugh of Avalon. He is the only canonised Bishop of Lincoln, a diocese which then encompassed Oxford.
During its early years almost a quarter of the College's student body consisted of daughters of clergymen. As Wordsworth stated in a letter dated 14th May 1886: "many of the clergy especially are forced reluctantly to send their daughters to 'unsectarian' places of instruction because the Church has done so little for their needs."
The first Principal of St Hugh's was Miss Moberly, a woman 'capable of delivering Anglican instruction to her charges.' From its earliest inception then, the Christian faith and the Anglican Church was at the centre of the College's educational and pastoral purpose.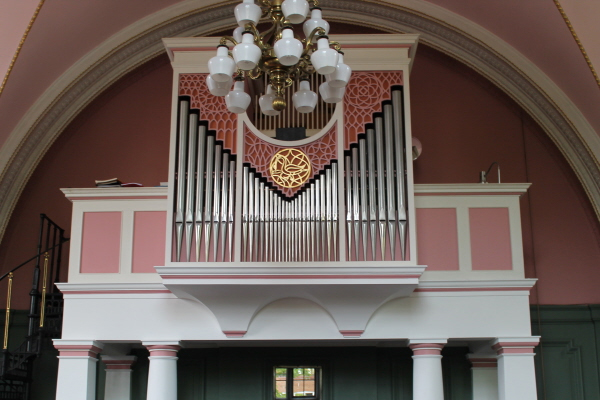 When it was built, the Main Building incorporated the Chapel at its heart, above the main entrance topped by the iconic bell tower. The Chapel was dedicated by the Bishop of Oxford on Ascension Day in 1916.
The Chapel was refurbished in 1962 thanks to the bequest of Dr Cecilia M. Ady, a former History student and professor of the College who died in 1958, leaving St Hugh's a legacy which was applied towards the good of the existing Chapel. The Chapel's striking organ was dedicated by the Bishop of Oxford on Ascension Day, 1980.
The Chapel houses various memorials dedicated to former members of the College. This includes a brass plate memorial for the St Hugh's women who died during the Second World War as a result of enemy action.
The beautiful stained glass window near the entrance to the Chapel is a memorial to Winifred Francis Inman a former student of the College, who died tragically young. The final section of the Latin inscription on it reads 'do not be afraid, just believe'.
There is also a statue by the sculptor Anthony Todd Smith, which was blessed by the former Archbishop of Canterbury, Dr Rowan Williams on the 14th September 2011. The numerous swans that decorate the Chapel are in reference to the College's name sake, St Hugh, who is the patron saint of the swan.