St Hugh's has a dedicated Learning Development and Support Tutor, Alex Antoniou, who currently works in College on Mondays, Wednesdays and Fridays during term time.
With a broad programme of support, all students at St Hugh's can access services throughout the academic year that will equip them with the skills they need to succeed in their studies. St Hugh's students can get in contact with the Learning Development and Support Tutor at study.help@st-hughs.ox.ac.uk.
"My job here at St. Hugh's is to ensure that all students are equipped with all the tools they need to succeed whilst they are at Oxford. I'm here to offer academic guidance and support to everyone at St. Hugh's, from Freshers writing their first tutorial essay to graduates submitting their dissertations."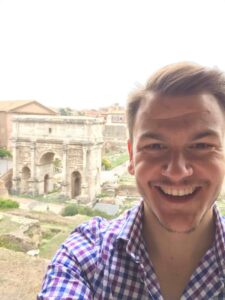 — Alex Antoniou, Learning Development and Support Tutor
Study Skills Support Programme
Exams 101
Exams 101 is a weekly workshop series running throughout Trinity Term, intended to prepare you for sitting (and succeeding at) your exams. Weeks 1-4 are intended primarily for Finalists, and Weeks 5-8 for those taking Prelims/Mods. Click here to see the timetable for Trinity Term 2023. Fridays 10.00-11.00* in either Mordan Hall or MGA Lecture Room. (*Week 3, Friday 11.00-12.00).
Shut Up and Work!
Overwhelming to-do list? Lacking motivation? Just need somewhere quiet to work? Then come along to Shut Up and Work!
In these weekly sessions, we'll be using the Pomodoro Technique of timed study sessions to boost focus and productivity. Just bring along something to do, and get to work!
Shut Up and Work! sessions take place every Wednesday morning in term time in 10.30-12.30, Weeks 1-2, 8 in the Old Law Library, Weeks 3-7 in MGA Lecture Room. All members of St. Hugh's are welcome: undergraduates, graduates, and academics. Just bring along whatever you're working on, be it a tutorial paper, dissertation, project report, article (or anything else!).
1:1 Study Support Appointments
1:1 sessions with the Learning Development and Support Tutor are available whenever you need them! Either drop-in to the Tutor's office (Room 11-12 @ 80 Woodstock Road) during term time on Mondays 10.00-11.00 or Fridays 13.30-14.30, or drop the Tutor an email (study.help@st-hughs.ox.ac.uk) to make an appointment outside of these hours. We can talk through issues you are having with any aspect of your academic life, including:
Academic writing
Dealing with tutor's feedback
Time management
Note-taking
Revision/exam technique
Referencing and bibliographies