A College with a strong sense of its radical tradition
Founded in 1886, St Hugh's is now one of the largest colleges in Oxford, with around 800 students. The College was first established to offer an Oxford education to women. Many of its alumni have been trailblazers for female achievement in their respective fields. Today, the College still retains a strong sense of its radical tradition, and of the importance of opening up the opportunities of Oxford to all who could do well here. Since its centenary in 1986, St Hugh's has accepted men and women, and today the College welcomes students from every country, and any kind of background. Discover more about our history here.
St Hugh's has a beautiful setting just to the north of the city centre, with impressive Edwardian buildings, several of which are listed, and contemporary, environmentally sensitive additions such as the Maplethorpe Building, housing state-of-the-art facilities, and the Dickson Poon University of Oxford China Centre Building, opened by the Duke of Cambridge in 2014. St Hugh's also boasts some of the largest college grounds in Oxford. It is known as the 'Island Site' because of its ample, tranquil gardens, featuring abundant mature and ornamental trees and stunning herbaceous borders. All of these features make it a restful and inspiring place to live and work.
The College community is inclusive and diverse, and has a friendly, modern feel. There is an active sporting and musical life at St Hugh's, as well as a variety of student societies, including many subject-based ones. The College Chapel offers a supportive and welcoming environment for Christians of all denominations, and has its own non-auditioning choir.
A three-dimensional map of the 14-acre College site can be seen below.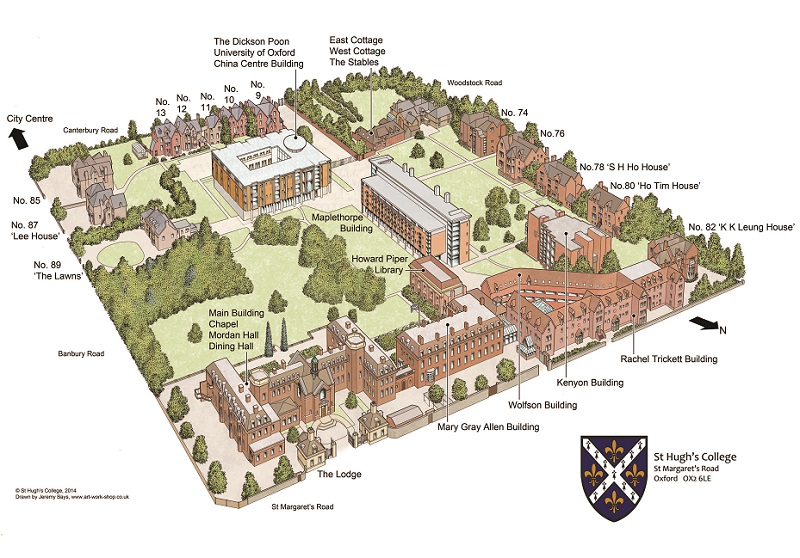 Save