St Hugh's College students, James Fowler and Rachel Wheatley have been selected to represent the British team in Judo at the European University Games this summer.
Later this month, two students from St Hugh's will be heading to Croatia to compete in Judo at the European University Games on behalf of Great Britain. They will be part of a Judoka of 14 women and 14 men competing in Croatia, with two other students from the University of Oxford also selected for the team. Only the University of Bath have more representatives taking part, with five athletes – most of whom are sports performance students training full-time.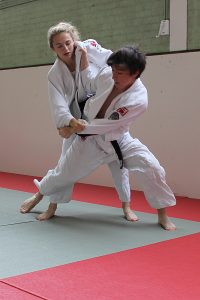 Selection for the competition is based on the results from the British University Championships Nationals in February, with the finalists being selected to compete. Rachel Wheatley (second year DPhil) and James Fowler (first year Law) won Silver in their respective categories.
Both Rachel and James began judo at a young age, with James entering his first competition at 10 and Rachel beginning with her father (who had also competed at university) at just five-years-old. Both progressed quickly, with Rachel starting coaching at her local community college at 17 and competing in the British National Junior Championships in 2011. Whilst James competed in the Commonwealth Games Under 17 Championships in 2012, where he won Bronze in the under-55kg category.
Both are training hard ahead of the competition, with several 90 minute competitive sessions, gym sessions, runs and other cardio common activities each week during term time fitted in around their studies. Congratulations to both James and Rachel on their selection, we wish them the very best of luck for the competition in Croatia at the end of the month.
You can keep up with updates from the Games and view the full schedule on their website using the link here. You'll also be able to hear more about Rachel and James' experiences and their hopes for the competition in an interview that will be published shortly.