The Dickson Poon University of Oxford China Centre Building
The new University of Oxford China Centre is located in the magnificent Dickson Poon Building in the grounds of St Hugh's College. The building is name after Sir Dickson Poon who contributed £10million to the development.
The Centre, opened on 8 September 2014 by HRH The Duke of Cambridge, joins together academics and researchers with an interest in Chinese Studies from across the University and aims to strengthen its relationship with China and other centres of Chinese scholarship worldwide. The Centre's Director is Professor Rana Mitter.
The new building has floor space of nearly 5,500 square metres (excluding the Chinese central courtyard and garden) over five floors. Its dedicated library and a reading room provides a permanent home for 60,000 volumes and a large part of the Bodleian Libraries' Chinese book collection. It also features a 100-seat lecture theatre; a dining room, study areas, a state-of-the-art language laboratory; and a green, ecologically efficient roof terrace. There are 63 study/bedrooms for graduate students of St Hugh's College in the same building, as well as a range of conference and seminar facilities.
Within the building is The Wordsworth Tea Room, a spacious and welcoming dining space open to students, staff and guests of St Hugh's College and the China Centre. The Tea Room is open weekdays during term time. The space can also be hired for events.
If you would like to discuss bringing your conference or event to The Dickson Poon University of Oxford China Centre Building please contact our conference team.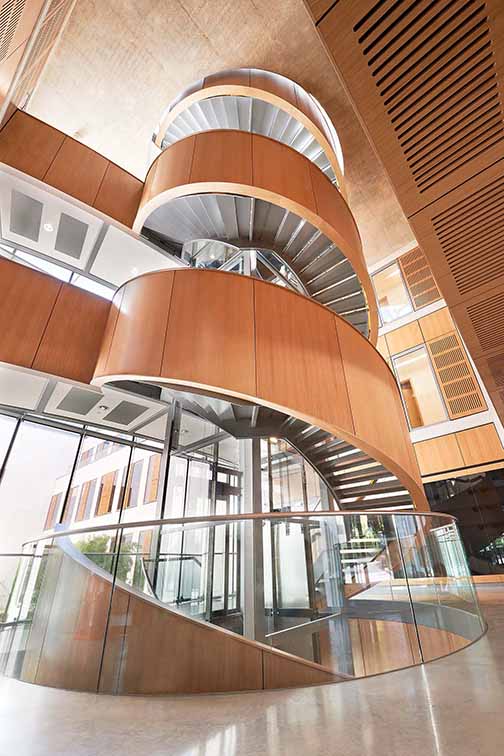 China Centre staircase
This has been a unique collaboration between a college of the University and University departments. St Hugh's is extremely proud to have raised £20 million for this new development, and we are confident that through continued fundraising we will soon have the total amount needed. We are immensely grateful to our donors for helping us to provide such attractive, modern facilities for the students, Fellows and wider community at St Hugh's.
I believe China will become an even more significant world force this century, requiring a deeper understanding by the West. Oxford already has a proud history in the study of China, and I was delighted to make this gift to help advance knowledge, collaboration and understanding in all aspects of Chinese culture.
The opening of the magnificent new China Centre building enables us to confirm Oxford's position as Europe's premier centre for the study of China and to move toward making it the most exciting place to work on China in the western world.