St Hugh's College Principal, the Rt Hon Dame Elish Angiolini DBE QC, was invited to attend the graduation ceremony of St Ninian's High School.
St Ninian's High School in Giffnock, near Glasgow, welcomed the College's Principal to address graduating students, their parents and other members of the local community during their graduation service last week.
In what is a very moving and special evening the excellent contributions the students have made to the school community in their six years are celebrated. The school invites a special guest, who has made an outstanding contribution to Scottish life to address the students, their parents, the school's staff, local politicians, and senior education officials.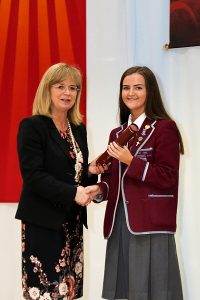 Dame Elish was delighted to attend the service of graduation to address the students as they set out on their paths towards further education and their working lives. Dame Elish wished them well in their future endeavours, hoping that they find joy, resilience and serenity in their lives. She was hugely impressed with the school, the standards it maintained and the students who represented it so well.
St Ninian's  has a wonderful tradition of presenting their graduating students with a scroll which captures their wider achievements over their time with the school. This scroll includes a variety of activities and accolades, including: their involvement with the community; awards they have received; their service and contributions to the school; and details of how they have further represented the school.
They are also given a picture of their year group as a memory of the happy times they have shared, and a personal reference from the school which they can use for the future. The students pictured receiving their scrolls from Dame Elish are Head Girl, Anna Campbell, who will be studying Law at the University of Strathclyde and Ronan Doherty, the Head Boy, attending the University of Glasgow also to study Law.
The school also graciously made a donation of £1,500 to a charity of Dame Elish's choosing. She chose The Moira Fund of which she is a patron. They are a grant making charity that support those traumatically bereaved by the murder or manslaughter of a loved one.