St Hugh's Archaeology & Anthropology student makes important discovery during excavation in Georgia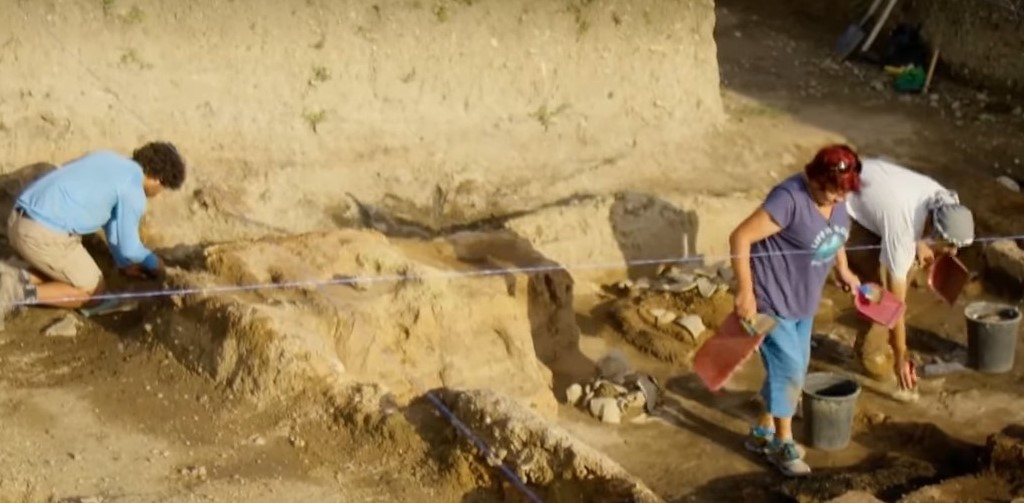 St Hugh's second year undergraduate student, Luka Shanidze, visited Georgia this summer to take part in excavations at Grakliani Gora, an incredibly significant site 40km Northwest of Tbilisi containing remains spanning from 2.0 million years ago all the way to the Early Christian period. Below is a fascinating account of his experience and the importance of the site.
Thanks to a generous travel grant from St Hugh's and the hospitality of project director Professor Vakhtang Licheli at Tbilisi State University, I was able to participate in my first ever excavation at at Grakliani Gora – a multilayered site with most intensive excavations focused on settlements occupied from the 12th – 3rd centuries BC. Certain excavated sections have become publicly accessible, rooved and accompanied by plaques: tourists and locals alike visit often. It is famous especially for an inscribed altar which could be the earliest evidence for a "proto-Georgian" script, dated between 1020-900 BC. The discovery of a standardised weight system around this period as well as imports from the Near East, Greece, and Egypt indicate an enduring developed urban economy. The settlement was also subject to many cultural influences from these regions throughout the 1st millennium. An example of this is the Greek-style architectural detail found on a sanctuary built in the 4th or 5th century BC. The sanctuary was also destroyed in the late 4th century, perhaps in Alexander the Great's campaign in Eastern Georgia.
This season I worked primarily on the excavation of the 1st terrace, from which we are trying to determine to what extent the settlement structure was planned. On this terrace, one of two houses is now fully excavated, with a visible furnace, altar, and bench, along with much pottery. During the excavation of the house walls, I came across the tip of a deer antler, which on further careful digging appeared to be the entire antler of an adolescent Caucasian red deer. Its situation among the collapsed remains of the house wall suggests that it might have been mounted as an ornament – perhaps of cultic significance, since red deer were not typically hunted during this period for subsistence. More work remains to be done in the future, in order to establish the reason for the deer antler's presence and its context among the remains, as well as to see whether there are any other structures within the vicinity of the first house. Apart from excavation, we were also tasked with washing finds, drawing and writing up pottery sherds, and surveying by Total Station (an optical instrument used in surveying) or by drone.
As my first ever excavation, the experience proved both very insightful and exciting. I particularly appreciated the chance to return to Georgia and learn about its archaeology firsthand – a region with incredibly rich history and much more still waiting to be discovered. It was also a great chance to further improve my Georgian and meet amazing local archaeologists.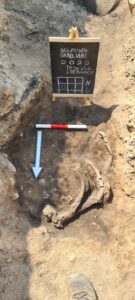 1. Antler of an adolescent Caucasian red deer

2. 1st millennium house layout with kiln and bench

3. Altar with two inscriptions, one may be proto-Georgian or early Aramaic

4. 1st Terrace; I worked on the eastern most wall of the house on the right