Outreach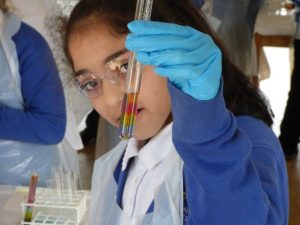 St Hugh's enjoys working with schools across the UK – and in particular schools in the College's link region, Kent – to promote the courses offered by the University of Oxford and to encourage applications by demystifying the Oxford admissions process. Since the beginning of the University's regionalisation scheme, which exists to target outreach work effectively across the UK, the College has worked each year to deepen and add to its relationships with schools in Kent.
We primarily work with students in Years 10, 11 and 12, but each year also welcome visits from younger groups. St Hugh's can offer a range of outreach activities in Oxford, which include:
Talks to demystify the admissions process and suggest general ways for prospective applicants to improve their applications
Opportunities to talk to current undergraduate students, either in formal 'Question & Answer' sessions, or during tours of the College
Interview workshops and sessions on career progression from Higher Education
Academic taster sessions
Subject-specific taster days
Annual Open Days
Lunch in the College Dining Hall
Morning visits to St Hugh's which leave free time in the afternoon for educational visits to Oxford's Ashmolean Museum, Oxford University Museum of Natural History, Museum of the History of Science, Pitt Rivers Museum, Bate Collection of Musical Instruments, Bodleian Library & Weston Library, Botanic Gardens, Oxford Union, and more
The College Admissions & Outreach Officer, Luke Jackson-Ross, also frequently visits schools, and is happy to offer talks for information evenings, sit on question panels, answer questions at Higher Education Fairs, or offer classroom information sessions during the school day.
We very much welcome the opportunity to work with teachers and students directly, and schools in the Kent region are encouraged to contact our Admissions & Outreach Officer at admissions@st-hughs.ox.ac.uk to arrange a visit or ask a question.
More information about the outreach opportunities offered across the University of Oxford can be found on the University's website.