Literary Connections
Over the course of the 2020-21 academic year, we have been pleased to highlight the careers of many of our alumnae who are distinguished authors, and to explore the lives of alumnae with literary connections who are perhaps not as well known.
Our deepest thanks to those alumni who have already contributed to this project.
Mary Renault (Eileen Mary Challans, English Language and Literature, 1925)
Eileen Mary Challans, who wrote under the pseudonym Mary Renault, was a writer best known for her historical novels set in ancient Greece, which bring to life the worlds of Theseus, Socrates, Plato and Alexander the Great. Click here to read her profile.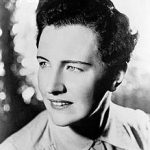 Phyllis Hartnoll (Modern Languages, 1926)
Phyllis Hartnoll was an acclaimed theatre historian, poet, editor, translator and dramatist. She was the first woman to be awarded the University's Newdigate Prize for English Verse for her poem 'The Sands of Egypt' in 1929, and is best known for being the editor of the pioneering work The Oxford Companion to the Theatre, which helped to establish the study of theatre history as an academic field. Click here to read her profile.
Monica Jones (English Language and Literature, 1941)
Monica Jones was a lecturer in the English Department at University College, Leicester (now the University of Leicester) and the companion for 35 years of the poet Philip Larkin. She was the only person to whom he dedicated one of his poetry collections (The Less Deceived). Click here to read her profile, written by Dr Sue Brown (Modern History, 1963).
Juliet Nicolson (English Language and Literature, 1973)
Writer and journalist Juliet Nicolson spent many years working in publishing in London and New York before turning to writing books. We were delighted to welcome her to lead a business breakfast on the business of being an author for the St Hugh's community in 2018. Click here to read her profile.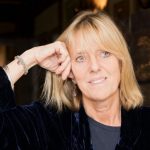 Catherine Bruton (English Language and Literature, 1991)
Catherine Bruton is a multi-award-winning children's author, who also writes under the pseudonym Cate Shearwater. Her work is deeply influenced by her time at St Hugh's, especially her tutors Ann Wordsworth and Professor Isabel Rivers. Click here to read her full profile.
The views and opinions expressed in the '100 years of Oxford degrees for women' profiles are those of the authors, and do not necessarily represent those of St Hugh's College.