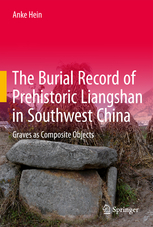 Dr Anke Hein, Peter Moores Associate Professor in Chinese Archaeology and lecturer at St Hugh's College, is due to publish a new book with Springer Press in 2017 entitled Graves as Composite Objects: The Burial Record of Prehistoric Liangshan, Southwest China. Dr Hein is an anthropological archaeologist, whose main research interest lies with questions of inter-cultural contact and human-environment interaction, geographically focusing on the so-called border regions of China.
Dr Hein's latest book proposes a new model and scheme of analysis for complex burial material and applies it to the prehistoric archaeological record of the Liangshan region in Southwest China that other archaeologists have commonly given a wide berth, regarding it as too patchy, too inhomogeneous, and overall too unwieldy to work with. The model treats burials as composite objects, considering the various elements separately in their respective life histories. The application of this approach to the rich and diverse archaeological record of the Liangshan region serves as a test of this new form of analysis. This volume thus pursues two main aims: to advance the understanding of the archaeology of the immediate study area which has been little examined, and to present and test a new scheme of analysis that can be applied to other bodies of material.
Please see Dr Hein's website for further information concerning her research and publications.
Save
Save
Save