Tim is Professor of Greek Literature and Dorothea Gray Fellow in Classics at St Hugh's College. He teaches a wide range of Greek literature and some Latin, as well as both Latin and Greek language. His research interests are in Greek historiography and in the reception of ancient Greek history and culture in the modern world.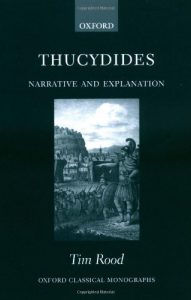 His first book, Thucydides: Narrative and Explanation (1998), a revision of his doctoral thesis, looks at how Thucydides uses narrative techniques (especially manipulation of time and perspective) to express his interpretation of the Peloponnesian War. Since then, Tim has written two books on Xenophon's Anabasis and its modern reception. The Sea! The Sea! The Shout of the Ten Thousand in the Modern Imagination (2004) examines how later readers, particularly in the last two hundred years, have been drawn to the famous cry Thalatta! Thalatta! – the highpoint of the retreat of the Ten Thousand, in the process distorting Xenophon's account. American Anabasis: Xenophon and the Idea of America from the Mexican War to Iraq (2010) is focused on the American appropriation of Xenophon. It analyses allusions to the Anabasis during the conquest of the American West and during the Civil War, and explores the continuing appeal of Xenophon during more recent military conflicts.
For a full list of Tim's publications, see his profile on the Classics Faculty website. Some of Tim's publications are available to download on the academia.eu website.