Outreach at St Hugh's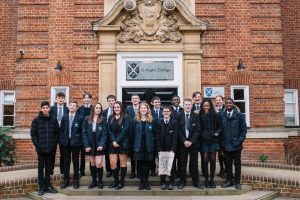 St Hugh's is committed to promoting educational equality. We work to ensure that academically able young people from all backgrounds give serious thought to applying to Oxford, and see studying at the University as a tangible prospect.
We work with schools to encourage undergraduate applications from historically under-represented groups, running a broad range of activities and events aimed at demystifying the Oxford admissions process, offering curriculum-enrichment opportunities, study-skills support and confidence-building workshops.
In accordance with the University of Oxford regionalisation scheme, the outreach work at St Hugh's is primarily focused on schools in Kent, our link region. We work largely with KS4 and KS5 students (Years 10, 11, 12 & 13) but also welcome visits from younger groups.
Visits to St Hugh's can take place in the morning or afternoon, and usually include: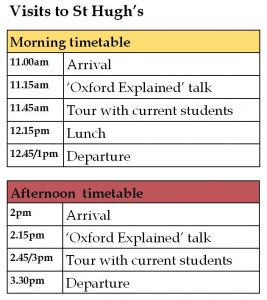 A 'Raising Aspirations' talk to encourage students to consider applying to university or
An 'Oxford Explained' talk to demystify Oxford and its admissions process
Tours with current students, with the opportunity to ask them about life at Oxford
A free lunch in the Dining Hall, or sandwiches for larger groups
Groups may also request other elements, for example:
Academic taster sessions to give students an insight into teaching and learning at Oxford
A study session at or visit to one of the University's Museums
Prospective applicants are welcome to visit College on three annual Open Days (1 July, 2 July and 18 September 2020). Individual visits are always welcome, and do not need to be arranged in advance. You can come at any time and speak to either the Outreach Officer or have a self-guided tour around College. The College also offers a variety of other activities, including subject-specific taster days.
The Outreach Officer frequently visits schools, and delivers talks at information evenings, sits on discussion panels, answers questions at Higher Education Fairs, or offers classroom information sessions during the school day. They very much welcome the opportunity to work directly with teachers and students, and schools in the Kent region are encouraged to get in touch to arrange a visit or to ask questions.
More information about opportunities offered across the University of Oxford can be found on the University's website.