Mordan Hall Suite
Mordan Hall is one of the most loved and traditional spaces in St Hugh's College. To an early generation, between the World Wars, it was the College Library.
Later it was used to stage plays and musicals, lectures and prize-givings. It evokes fond memories for generations of St Hugh's senior members and in 2008 was completely refurbished along with creating the four adjacent breakout rooms that are the Hamlin & Dobbs rooms.
Mordan Hall
This multi purpose flat floor space is positioned on the first floor and can accommodate up to 144 people in theatre style. Mordan Hall includes presentation technology and microphones when required, along with air- conditioning and portable stage.
Hamlin and Dobbs Rooms
Four rooms are available in the Mordan Hall Suite. These provide breakout rooms for larger meetings in Mordan Hall, or are perfect for smaller individual meetings.
Mordan Hall Suite Layout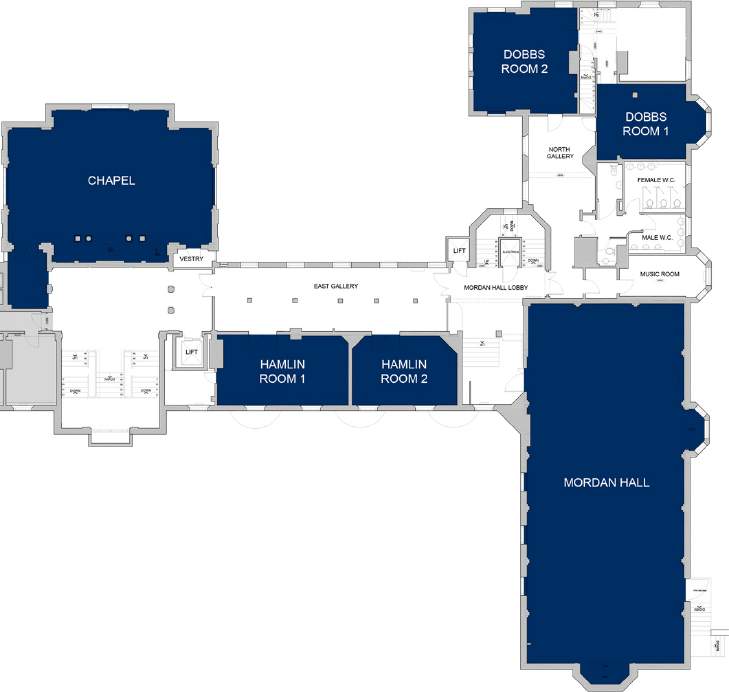 | | Theatre | Classroom | Boardroom | U Shape | Rounds | Cabaret | Banquet | Reception |
| --- | --- | --- | --- | --- | --- | --- | --- | --- |
| Mordan Hall | 144 | 50 | 40 | 40 | 80 | 64 | 100 | 120 |
| Hamlin Room 1 | 30 | 14 | 18 | - | - | - | - | 30 |
| Hamlin Room 2 | 20 | 8 | 14 | - | - | - | - | 20 |
| Dobbs Room 1 | 20 | 8 | 14 | - | - | - | - | 20 |
| Dobbs Room 2 | 30 | 14 | 18 | 12 | - | - | - | 30 |